Born Free Born Wild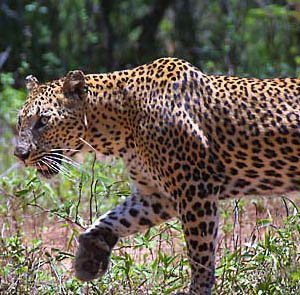 Sri Lanka is blessed with
92 species of mammals!
Over 440 bird species!
242 butterfly & 117 dragonfly species!
190 reptiles of which 98 species are of snakes, while the remaining are of mainly lizards, crocodiles and turtles!
102 amphibian species!
107 species of fish!
Famous National Parks of Sri Lanka
Dry Zone Parks
Yala National Park
Yala is one of the largest and most famous national parks in Sri Lanka and is in Southern area of the island. It has a completely diverse landscape ranging from the ocean to jungles, scrubland, freshwater rivers and lakes, which support a large variety of wildlife Over 30 species of mammals are found here, including endangered species such as the Sloth Bear, Leopard, etc Yala is also noted for Elephant and water buffalo. You'll probably have the best chance of sighting a leopard here than anywhere else on the island.
Other interesting animals one can see in Yala
120-130 bird species.
The endangered Olive Ridley and Leatherback Turtles who return to the Yala coastline often for nesting
Crested Serpent Eagle, and white Bellied Sea Eagle
Lesser Flamingo, Pelican, Painted Stork and Night Heron
Migrating Waterfowls
Sri Lanka Jungle Fowl, Black-Necked Stork, and Pompadour Green Pigeon,
Crocodiles, the venomous Russel's viper and a variety of sea turtles..
Wilpattu National Park
Wilpattu was opened to the public once again recently after 3 decade civil war. This is the largest national park in Sri Lanka. Situated in the North Central province it is home to all species of wild animals in the country.
Udawalawe National Park
The Park consists of a large area of scrub, grass and old plantation around a large reservoir. Udawalawe National Park is very well known for its outstanding scenic beauty and wealth of fauna species, particularly mammals and birds. Jeep safaris enable you to see deer, wild boar, jackals and the hundreds of elephants
Minneriya National Park
The Park is around Minneriya reservoir and one of the most scenic in the island. It is well known for Elephants. Large numbers could be seen specially near the reservoir as they come to eat, drink and play
Kaudulla National Park
Kaudulla is the newest national park situated near Minneriya Park which is popular for Elephant lovers and it forms a corridor for Elephants migrating between Somawathiya National Park in the north to Minneriya National Park, further south.
Wasgomuwa National Park
Located in the dry zone, Wasgomuwa National Park is almost completely surrounded by large rivers on all its sides. It offers more in terms of wild life, - animals Wild Probably one of the best places in the island for near wildlife fanatics as it contains more wildlife, in terms of animals, wild fauna and flora. http://www.wildlifetoursinsrilanka.com/Wasgamuwa_sub .htm
Bundala National Park
Bundala is an area bordering the ocean and it is dotted with lagoons and parks It is a paradise for photographers and nature lovers.
Horton Plains National Park
This Park which is situated in the central hills of Sri Lanka stands in stark contrast with the rest of the National Parks. Visitors to Horton Plains are allowed to walk on their own on the designated tracks. The scenic beauty and wildlife of Horton Plains which is a remote 2000m high plateau just south of Nuwara Eliya is set to impress even the most discerning traveler. ..
Sinharaja Forest
Sinharaja Forest Reserve is of international significance and has been designated a Biosphere Reserve and World Heritage Site by UNESCO. The reserve is a treasure trove of endemic species, including trees, insects, amphibians, reptiles, birds and mammals.
Rich in cultural diversity OR Sun n Sand